Diversity and Multi-culturalism
It is a common perception that the more ethnic minorities and home languages there are amongst a school's student population, the more demands will be placed on teachers, and the less individual help all students will receive. I have also heard English speaking parents claim, that in a school with lots of children who have English as a second language, their child will be held back.This is almost certainly not the case.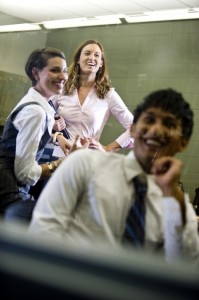 A multi-cultural school will often have a diverse curriculum and a wide range of extra-curricular

Extra-curricular activities take place outside of lesson times, for example, at lunchtime or after school.

activities. For example, it could mark festivals and celebrations across the religious spectrum. It could provide Turkish lessons and classes in Caribbean drumming.
EAL

English as an additional language students (EAL) are from ethnic minorities and receive additional support to assist them inaccessing the National Curriculum.

students can often improve the learning opportunities of all students.
Every school should have an Equal Opportunities' Policy. It should be accessible upon request. However, such a document is worthless unless it is applied

Applied learning is learning that is applied to the world of work.

in the school, and you as a parent need to see it in action at first hand.
I have found that in schools where there is a genuine multi-cultural mix, when there is no dominant race or culture in each class, students really do learn to be tolerant, because they have no other choice. In this situation, any child who is 'different' from the rest, for example, a middle class child in a school which  is predominantly working class, or a homosexual boy, is often just accepted as another one of the many minorities in the community

Community schools are the standard type of maintained, state school.

. Children in this situation are used to difference. Every child will be 'different' to others at some time in their school career, so the better able the environment is to cope with that difference, the better time every child will have.
In schools where there is a numerically dominant ethnic group, and very small minorities, it may be a cause for concern if your child is in the minority. However, you need not necessarily worry. If the school has a strong and effectively applied

Applied learning is learning that is applied to the world of work.

equal opportunities' policy, and therefore the minorities are well provided for, then sometimes the minority students can be in an advantageous position. If the minority is very small, then often other students do not recognise it, because they are not threatened by it.
In a school with two predominant, potentially conflicting cultures, there is sometimes volatility. A school in this situation needs a strong equal opportunities' policy rigorously applied

Applied learning is learning that is applied to the world of work.

, otherwise, a cause for concern may arise for parents.

Undersubscribed schools could take more refugee students than other schools. LEAs will allocate students to a school which has places available. The transitional nature of the school intake becomes a concern. Refugee children are the most likely to move on to another school before their secondary schooling is complete. This creates instability in the learning environment.
Further Information
OfstedOfsted, Office for Standards in Education, is the government body which inspectsschools, measures their success, and writes reports of their findings. All Ofsted reports can be found on their website.
The 'Information about this school'  section will include details about the ethnic breakdown of the student cohort.
Prospectus
The prospectus may include an ethnic breakdown of the student cohort.
Open Evening/Visit
The school's equal opportunities' policy should be available on request.